In recent years, the ban on plastics has been promulgated more and more globally, and the popularity of environmentally friendly packaging products has increased significantly. Among many products, the discussion of water activated tape has become one of the hot topics
As a business, making a long-term relationship with your customers should be your number one priority. The last thing you want for your business is a shipment-related problem.
Most businesses already outsource this function to other companies that specialize in this department, and a shipment failure probably won't even be your fault anyway.
To minimize shipment-related issues, you can switch up the tape on your cartons and use something that offers much more strength than traditional pressure-sensitive tape.
Perhaps the best option in this department is to use water activated packing tape. But the issue with that is that most people don't know that tape exists and all the advantages that come with it.
So we're here to shed some more light on water-activated tape, its uses, its composition, and the advantages it offers.
So let's get right to it!
What Is Water Activated Tape?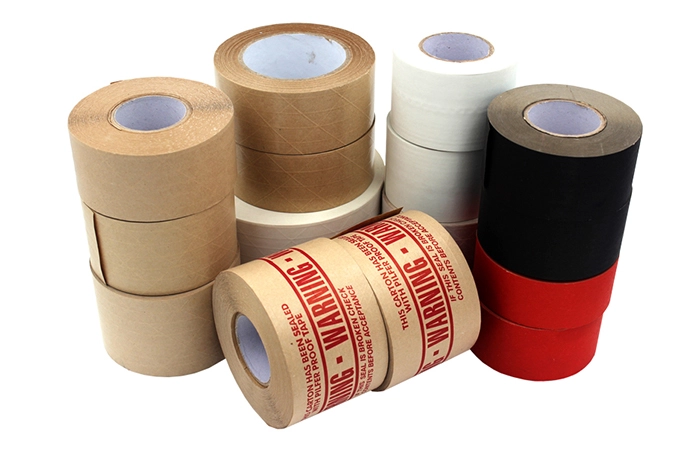 As the name suggests, the gummed kraft tape is sensitive to moisture, and the tape sticks after the sticky side make contact with water.
This tape is ideal if you need a tamper-proof tape that seals your box until it reaches the customer's delivery address. There is no chance someone can take off water-activated tape from a carton and tamper with the contents without anyone noticing.
Also, your productivity will increase when using gummed paper tape. The packer can go around sealing cartons with a hand-held tape gun. You can also use a dispenser to make the process considerably faster.
1.1 Material Used
Water activated tape is made of starch-based adhesive and white or natural colored paper. It can also be made only of paper, but that option will contain multiple layers of paper. In addition, more strength is added to the tape by including fiberglass or polythene strings with the paper.
As soon as the adhesive part is activated with moisture, it goes through the carton material and forms a permanent bond with the surface. That makes it a challenge to open the carton.
1.2 How Is It Made?
This eco-friendly alternative to standard pressure-sensitive tape is made with renewable paper backing. Then you add interwoven fiberglass threads to it and finish the product off with a high-performing water-activated corn starch adhesive.
This product is sure to out-perform the plastic tape that you're using.
As a professional water activated tape manufacturer, we make good quality product by 5 steps.
Step 1: Coating High speed coating machine, to ensure the uniformity of adhesive tape and adhesive characteristics.
Step 2: Printing Computer multi-color printing machine to ensure the accuracy and beauty of the printing pattern and content.
Step 3: Cutting We use the advance slitting machine to cut water activated tapes in different sizes and specifications according to customer's requirements.
Step 4: Inspecting We do 100% self-inspection of the products, include tensile strength, holding power, initial tack, to make sure satisfied customers.
Step 5: Packing After inspection, each roll of tape will be put into a protective bag, and then put into a carton according to the quantity for packaging
1.3 How Does It Work?
Gummed tape is terrific to use in conjunction with a dispenser designed explicitly for water-activated tape. This dispenser is used to wet and cut the tape efficiently. The primary use of this is to save as much time as possible while sealing cartons shut.
You can also moisten the gummed side with water by yourself, but that will likely take up a lot of time. Another disadvantage of doing so is that your office, or wherever the shipment boxes are kept, will become increasingly wet whenever you're done.
So it's best to use a gummed kraft paper packing Tape dispenser to moisten your product, which is then ready to be applied to the carton, which becomes ready for shipping!
Types Of Water Activated Tape?
All the benefits that come with water-activated tape also come in different sizes and styles.
These alternatives offer different advantages over the other and are used for different types of boxes. So let's look into each type in more detail!
2.1 Reinforced Water Activated Tape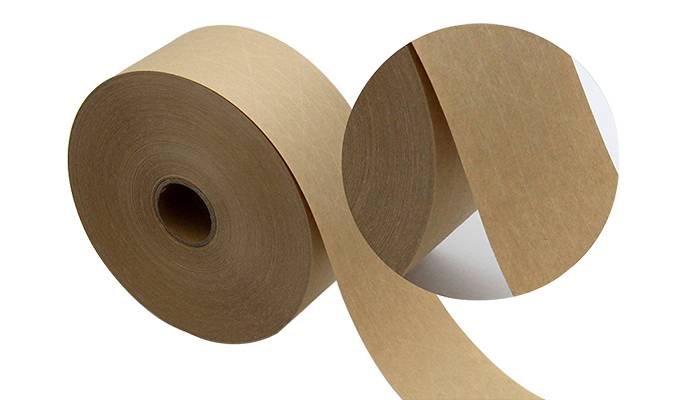 Another one of the types is reinforced water-activated tape. It is used for sealing cartons and boxes and comes with a great bond formed between the tape and the surface of the material it is applied to.
The bond is so strong that a carton layer also comes with it when you rip off the tape. That makes the box extremely theft deterrent as someone will notice if the upper layer of the carton is missing.
The composition of this tape is a little different from the others. It is made with fiberglass strands which are right there on the sticky side of the tape. The paper is reinforced with this layer of fiberglass strands which is how the tape has gotten its name.
Features of Reinforced water-activated tape :
Renewable and biodegradable plant -derived adhesive & backing
Water-activated corn starch adhesive
More affordable per seal than plastic tape
Perfectly fasten to 100% recycled boxes
Reinforced for added strength
Adopt flexible printing not steel printing , logo showed more beautifully and clearly
Can be printed in up to 4 colors
It is used for heavy shipment boxes and cartons that go a long way until they reach their intended destination. It is best to use these when the carton fulfills one of these two requirements.
2.2 Non-reinforced Water Activated Tape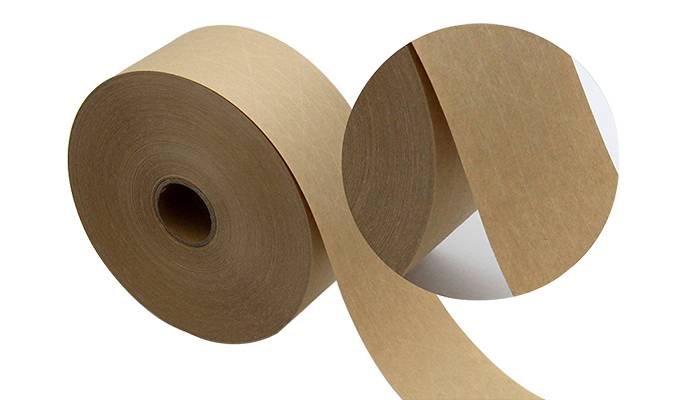 Another variation of water-activated tape is the non-reinforced variant. This type of tape is made with paper only. Therefore, it does not have an extra layer of adhesion that strengthens the bond.
This tape is used for lighter shipments or cartons, covering a small distance before reaching their destination.
It can be used on corners, irregular surfaces, and edges, and it rips off pretty quickly. On the other hand, non- reinforced kraft paper tape is rather challenging to rip off because of the extra layer of fiberglass strands.
Once taken off, you will notice that the tape will no longer remain sticky, and it won't be in the condition to be reapplied to some surface.
That makes the package extremely safe as once the tape is taken off, it cannot be reapplied, which means that someone will notice that the carton has missing tape and report this to the relevant authorities.
Branding is essential for your company. Every business has to maintain a brand image in the heads of their customers so that they will keep coming back to them.
Moreover, branding makes it very easy to remember where you bought something from, and the customer can keep referring to that when referring your business to someone.
Another advantage is that if someone looks at the product at first glance and likes it, they will not even have to ask where it is from, as it will already be visible because of the branding on the product.
So how can water activated tapes help in the branding of your business?
The answer lies in custom-made water-activated tape. You can get your logo printed onto one side of the gummed paper tape and make your branding permanent.
It will provide the cartons with a perfect and professional look to elevate the brand image in the customers' minds.
And when it comes to adhesion, custom water activated is second to none. So with all the advantages of standard water-activated tape, this might be the best solution for your business.
Benefits Of Water Activated Tape?
Besides the adhesion, there are several additional reasons that you should use water-activated tape for your business. Some of them are discussed below.
3.1 Bonds With The Package
Obviously, coming in at number one is that water-activated tape is fantastic when it comes to adhesion. The package will be highly safe if the gummed paper tape is used, and any tampering that could be done would be no longer possible.
The bond is just one of the reasons why water-activated tape is impressive.
3.2 Withstands Harsh Conditions
Another advantage that water-activated tape offers is the fact that it can withstand harsh conditions easily. With pressure-sensitive tapes, you will notice that extreme temperatures or dust can significantly affect the tape seal.
Opposite to this, the water-activated tape can withstand dust, dirt, extreme heat, and extreme cold. This durability is another fantastic function that gummed paper tape offers.
3.3 Green Solution
With all the greatness that comes with it, water-activated tape is also an environmentally friendly solution. Water-activated tape is 100% recyclable and biodegradable.
In today's world, we should be increasingly mindful of the environment, and using gummed paper tape is one of the ways we can prevent pollution.
In addition to that, because of the strong seal that comes with it, you will have to use much less tape, which makes the tape very efficient and prevents wastage.
3.4 Cost-Effective
The cost-effectiveness of water-activated tape is nothing new. The tape creates an increasingly strong bond which makes only one strip sufficient for one box. As a result, your rolls will last a lot longer, and you will save money when using this packaging tape.
On average, the amount of water activated tape used to seal a single carton is 8% less than other alternatives.
3.5 Tamper-Evident
As mentioned before, the tape penetrates the carton's surface. It creates a strong bond between the carton and tape and creates a seal that can show whether a package has been tampered with or not.
When it is removed, it also takes off 80% of the carbon fibers. You can easily remove the standard pressure-sensitive tape from the carton without leaving any traces. That makes it risky, and the carton can potentially be tampered with.
You will have lesser liability if you start using water-activated tape. Don't lose out on customer satisfaction just because you made the wrong decision about what type to use.
3.6 Increased Design Options
Another advantage is that you can customize your tape and get whatever you want printed on it. You can use printed water-activated tape for that and make your branding on the box immortal.
This makes it extremely easy for the customer to remember the name of the place they ordered from, and it will be more likely that they recommend it to someone.
3.7 Greater Strength For Heavier Packaging
As opposed to pressure-sensitive tape, gummed paper tape is a lot better for heavier packaging. Just one strip is enough to seal packages up to 15 kgs in weight!
With a seal that doesn't break, this tape is impressive to keep the boxes shut up until they reach the customers.
Applications
You can use water-activated tape to seal any box, whatever weight it is. It works best mainly on cartons made of cardboard that is used for shipping products.
So if your business is looking for a safe, cost-effective solution to their adhesive-related problems, all you need is a gummed paper tape, and you'll be good to go!
How To Use Water Activated Tape?
The water-activated tape has two sides: the gummed side and the printed side. You have to apply moisture to the gummed side so that the bond is activated and becomes sticky.
After applying little water to the surface, apply the tape to the box, and there you go, you have a package that is 100% ready for shipment.
Manual vs Electric Water Activated Tape Dispenser
Water-activated tape dispensers are also known as gummed tape dispensers. These are used to generate an immediate and strong bond between the cartons and gummed paper tape.
A dispenser provides a fast, simple way to cut and wet gummed paper tape for sealing corrugated cartons.
Manual Gummed Paper Tape Dispenser
Sealing between 1and 100 cartons per day/per 8hr shift
Packing stations without access to electricity
When there's a need to move the tape dispenser between various locations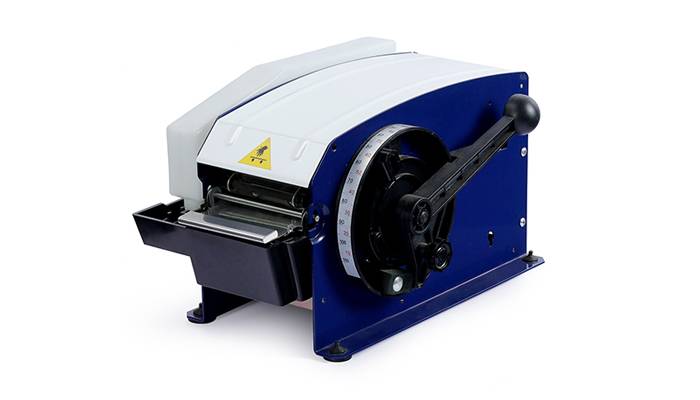 Manual water activated kraft papertape dispenser can be easily integrated into a packaging station and require no operator training. In addition, these require no electricity and are portable. 
These dispensers are perfect for places with no electricity and have to package around 50 cartons per day.
Electric Gummed Paper Tape Dispenser
The machineis equipped with AOTO automatic and semi-automatic modes which can realize pepeline operation
Use 220-230v power supply
Avoid placing in direct sunlight and outdoors
Automatic water activated paper tape dispensers are an ideal choice for businesses with a high volume in packaging operations. These tape machines are high-speed and are very efficient. In addition, there are efficient tape dispensing options for packing over 50 packages a day. 
These are also available with foot pedals to not even have to use your hands while dispensing.
Also, the dispenser has automatic features, which dispense the next piece when the previous piece is removed.
Conclusion
These are the options that you have when it comes to water-activated tape.
If you are looking to buy reinforced, non-reinforced or custom water-activated tape, make sure to look at our collection in the links provided!